About
Artist Statement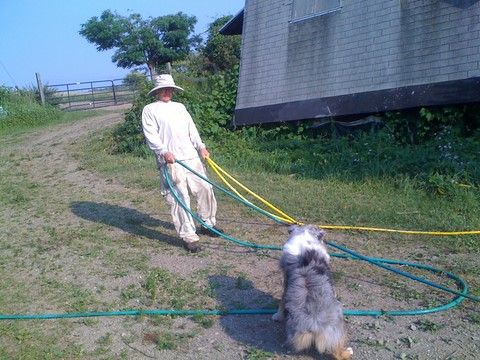 Robert John Holland

The most consistent theme in my 40 years of artistic pursuits is my deep symbiotic connection to my surroundings. Symbiosis is defined as "an interaction between two different organisms living in close physical association, usually to the advantage of both."

My personal and artistic ambition is to bring viewers into that relationship so that they can become part of this unique connection and share this opportunity to preserve the environment that feeds and nourishes us for the better.

I often digitize images to distill the elements that light obscures and capture a glimpse of the "otherworld" we so often walk by without a forward or backward glance. From my organic gardens, steel sculptures, to the surreal abstractions and dynamic installations, my art is a reflection of all of us, as I see it.

​I embrace a philosophy of living in a direct relationship with nature and assimilating and encoding the natural life cycle into the creative process. The aerobic/anaerobic balance in the aquarium and in the organic garden is the matrix of my conceptual model. I conceive of awe evolving from this focus, healing both personally and culturally.

EDUCATION
1993 Teaching Certification, Seneca Indian Historical Society, Irving, NY
1990 Certification in Environmental Geology, Buffalo Museum of Science
1975-1977 Graduate School of Social Work, State University of NY at Buffalo
1971-1973 B.A. Psychology, Cum Laude, State University College at Buffalo, NY
1970-1986 Water Well Driller, F.J. Holland Drilling
1967-1970 Social Work/Psychology Specialist (91G20) United States Army
1964-1966 Auburn Community College, Auburn, NY
​​ AWARDS
2002 Brenda Stern Award for new Media, 45th Chautauqua National Exhibition of American Art * curated by Robert Storr Museum of Modern Art, New York
1998 Curator's Prize, Slowinski Gallery, NYC, NY
1997 Curator's Pick, Pyramid Atlantic Book Arts Fair, Corcoran Gallery, Washington, D.C.
1977 John Rodwick Phototech Studio Award for Photography, 37th WNY Biennial Exhibition Albright Knox Art Gallery, Buffalo, NY
1977 Buffalo Photo Material Company Award for Photography, 37th WNY Biennial Exhibition Albright Knox Art Gallery, Buffalo, NY
1973-74 Author of the Year Award, Canadian Organization of Aquarium Clubs